Since you will probably be backpacking across most of Ireland, you will not be staying in a single hostel for long. It is advisable to use the Internet to get the best hostels in whichever city you visit. There are numerous sites that allow you to filter all the hostels in Ireland and arrange them according to price, services offered, proximity to roads etc.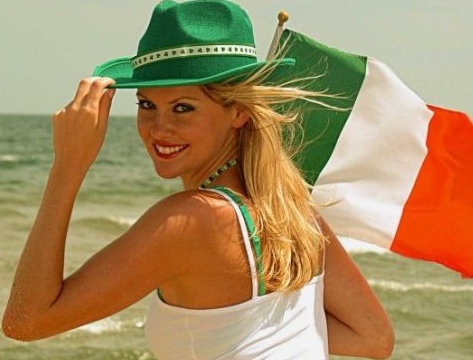 In a nutshell, backpacking across Ireland and meeting Irish people will be an unforgettable experience. You will also not face any accommodation problems because of the many options available in all cities.
Backpacking in Ireland on a budget.
Some good things do come from economic meltdowns! Namely, in Ireland, the price of everything has fallen, sometimes dramatically, in recent years. Ireland has been at the centre of an economic storm for a few years now, and the market has responded by lowering prices. So, there has never been a better time to visit this enigmatic and charming island. During the boom years Ireland invested heavily in its infrastructure, and now boasts a great network of motorways, and much improved bus and train services. This makes it easier and cheaper for backpackers to get around. There are various bus tours and train tours around the country (check out buseireann.ie and irishrail.ie for information). There are also numerous private tours, including the famous Paddywagon tour - officially the 'most fun tour company' in the world (paddywagontours.com). In all major towns and cities, car hire and bicycle hire is available, allowing the intrepid backpacker to explore local haunts.
There is great choice now for accommodation for a backpacker, including numerous high quality hostels in all the main cities, to relatively cheap hotels. Although the favorite of many backpackers is the uniquely Irish home-based B & B (Bed & Breakfast) - look for Failte Ireland approved B&B's. The Failte Ireland website (discoverireland.ie) lists approved B&B homes. You can choose from a mix of homes such as seaside bungalows, townhouses and farmhouses. These B&Bs are family run, and offer the backpacker the chance to meet locals, gain local knowledge and get a hearty breakfast which sets you up for the day!
Where to start in exploring this island? If it is city nightlife you are after, Dublin is the place to head to, with a great nightlife scene in the Temple Bar area. Although this experience can seem quite 'branded', so if you want a great nightlife with a distinctive Irish flair a smaller city such as Galway, Sligo or Kilkenny should be your destination.
Ireland drips with history at every turn, and when visiting various locations, a brief knowledge of the history of that area will be rewarded a hundred fold by a better understanding of the landscape, the buildings and not least, the people. So try and check out the historical buildings first at your destination. No visit to Dublin would be complete without visiting Kilmainham jail - now a museum, and tours there show you where many an Irish patriot was executed by the English. History can also be witnessed by simply walking down Dublin's main street (O'Connell Street) and noticing the bullet holes in the sculptures from the 1916 rebellion.
Destinations near Dublin not to be missed include Glendalough, where one realizes why people often use the word mystical when describing Ireland. Give yourself plenty of time to take in this remarkable, well preserved monastic settlement, set amid jaw dropping natural beauty.
Leaving Dublin, and heading North West to Sligo brings you to Yeat's country, as the noble laureate poet WB Yeats lived here for most of his life. You can see where he got the magic from for his poems - it drips (slowly) from the beautiful landscape. The town has some interesting features, but it is the environment around the town that yields the magic. Don't miss a journey around Lough Gill, a journey to Ben Bulben, and to Queen Maeve's grave near Strandhill. Strandhill also boasts some of the best surfing in Ireland, if you are up to it! At low tide at the beach in Streedagh, one can sometimes catch a glimpse of the wrecks of the Spanish Armada, washed up here in 1588, having been blown off course in an attempt to invade England.
South of Sligo lies the vibrant city of Galway, the place where most Irish people want to live. There is a huge choice when it comes to nightlife, from modern clubs to traditional Irish music until the wee hours in many a pub. Galway is the centre of Connemara, an Irish speaking area famed for its rugged beauty and wild landscape that is a must on any visitor's itinerary. The Aran Islands are easily accessible from Galway, and a trip to any of them is an experience not to be missed, particularly the larger Inis Mor Island. The unique limestone landscape and stunning sea cliffs make a visit here impossible to forget.
Further south takes you, via the stunning Cliffs of Moher to Kerry and Cork. Killarney, the main town in Kerry is a tourist mecca, but still retains unique charms, and a few miles from this bustling town you will find yourself in a landscape that will take your breath away. A tour on the famous ring of Kerry is a must, and if you can, stop off at one of the small towns in Kerry to get an insight into this unique place and its people.
Other areas to be squeezed in on your tour would be West County Cork, the Rock of Cashel in County Tipperary (recently visited by the Queen of England), Kilkenny town, and the Eastern towns of Wexford and Waterford. At all stages, interaction with the locals will reveal a wealth of information, and the ease at which you can strike up a conversation with the Irish is rightly renowned. You will catch a piece of Irish theatre conversing with the locals, bet it in the pub, eating Irish food, or the crossroads.